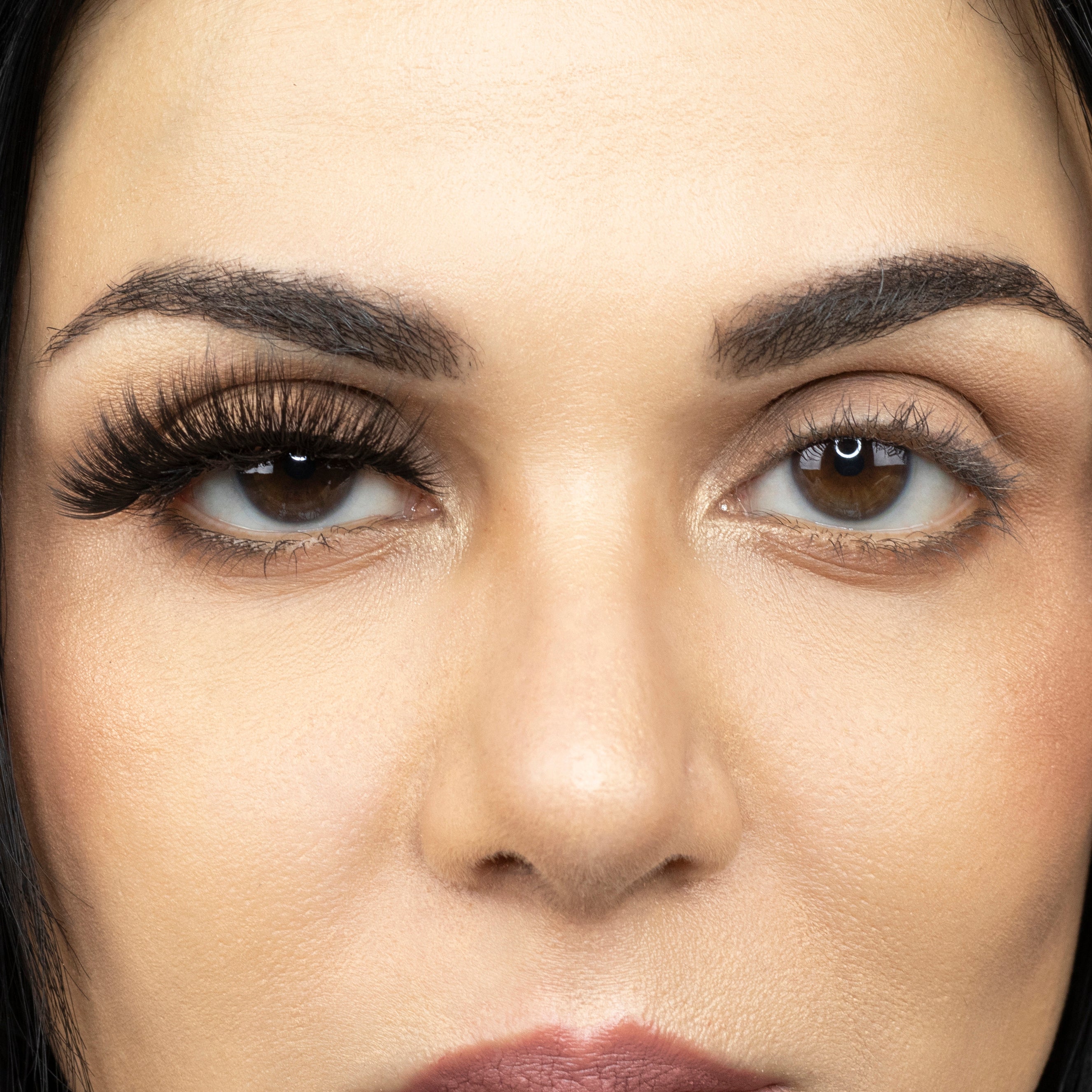 Suntarah 3D Premium Synthetic False Lash Style S-225


Amp up the drama with Suntarah's S-225 Premium Synthetic Lash! 
This lash has  double layered, soft and lightweight fibres that create its signature 3D fluffy effect.  S-225's round shape and intense, maximum volume make it perfect for a bold and glamorous look.  It's perfect for on screen drama, and beauty lovers that love a bold, dramatic look!
With its flexible and strong cotton band, you can enjoy maximum comfort and durability for up to 20 uses with proper care.  Plus, S-225 is 100% vegan and cruelty-free, making it the perfect choice for conscious beauty lovers.
Level up your lash game today with S-225!
Round
Intense, Maximum Volume
Bold, Dramatic, Glamorous 3D Effect!
Black Cotton Band

Up to 20 Uses with Proper Care

100% Vegan and Cruelty Free!
We want you to get the most of out of your lashes. Here are some tips to help extend your lashs' life:
• Always wash and dry your hands thoroughly before handling your lashes. Keep any tweezer or applicator you use clean. And don't forget to keep your glue container to clean to help prevent the risk of an infection.
• When removing your false lash from its mould, do not pull it off by its fibres. Instead use a tweezer or eyelash applicator to gently pull the lash from one corner of its band.
• Apply your false lashes after your eye makeup has already been applied. This will help keep your lashes clean. Try to coat your lash band evenly, and avoid using an excess of glue.
• Avoid applying mascara to your false lashes so as not to change their appearance or damage them.
• If you do want to wear mascara, apply a thin coat directly on your natural lashes and then apply your false lashes.
• Remove your false lashes before removing the rest of your makeup. You can use a q-tip or cotton ball to apply your favourite makeup remover or favourite oil to soften the lash glue. This will make it easier to remove the false lash without pulling, which could not only damage your false lash but your own lash.
• Clean your lash band by removing the remaining glue with tweezers, or a q-tip/ cotton ball with makeup remover or oil. Some people prefer to use a clean spoolie to remove leftover glue and makeup residue.
• After cleaning always place your lashes back in their lash container, moulding the lash into its initial shape. Keep the lash box lid closed to keep your lashes clean.
Suntarah 3D Premium Synthetic False Lash Style S-225
Shipping and More
Free Shipping
We aim to keep our shipping policy clear and simple. We offer FREE Shipping on every order to the continental US!
For Canadian customers, you can now opt to have your order sent to your local ChitChats branch, and pick it up for Free. See our Shipping Policy for more details!
We offer Worldwide Free and Affordable Flat Rates of shipping on orders up to $50 CAD, and Free Shipping Worldwide on orders totalling over $50 CAD.
For more information on shipping rates and times to your country please refer to our super simple shipping policy
If you have any questions at all, don't hesitate to contact us at hello@suntarah.com
Talk to Us
We're here for you. If you have any questions at all, please don't hesitate to contact us! You can reach us via email hello@suntarah.com, through our Get in Touch page or by messaging us through Whatsapp at 1-587-907-4282.
Don't forget to sign up for our newsletter for exclusive news and promos! You also get a 15% Coupon Code just for signing up!
Follow us @suntarahbeauty for exclusive promos and updates! And don't forget to #suntarahbeauty with your favourite Suntarah product to be featured on our social media accounts!
Calling All Beauty Influencers!
We love beauty- celebrating it and sharing it. If you are a beauty lover and active on social media, get in touch with us to see how you can become part of our #suntarahlover ambassador program! 
Please include your name, country of residence, social media handles, and the reason you'd love to be part of our program. We look forward to hearing from you!
hello@suntarah.com
Subject: SuntarahLove
Lashes for Your Every Mood.